Product Description
Customized Design and Build Bucket Elevator for
Material Handled: Wet Recycled Paper
Throughput: 25tph
Provide a system to sort and convey waste paper and plastic to be used as boiler fuel.
The system required the sorting of paper from plastic, ferrous and non-ferrous metals, storage and transfer to the boiler.
Equipment included:
2 x Drag Chain Conveyors
3 x Screw Conveyors
1 x Bucket Elevator
1 x 8.0m long x 3.0m dia trammel
Metal Detectors
Eddy Current Detectors
Storage Silos
Equipment General Description:
The belt bucket elevator is designed for vertical delivery of granular, powdery and small abrasive materials with a small suction force. Belts are used as traction components, belt bucket elevators are widely used in mining, metallurgy, chemical industry, power plants, agriculture, quarries and other industries. When the driving device start working , it drives the pulley to track the belt with buckets to do the circular movement from the tail to the top of the head . The head section has outlet and the tail section has inlet.
Specification:
Our quantum Standard Size Range
Bucket Width (mm)

160

200

250

315

400

500

630

800

1000

1250

Capacity (m3/hr)

7.5

11.5

22

27

48

67

103

138

204

327

Power Demand for 25m lift (kW)

2.0

2.5

4.0

4.5

7.5

10

15

20

28

40

Belt Speed (m/s)

1.02

1.02

1.15

1.15

1.2

1.22

1.34

1.34

1.47

1.47

Drive Shaft Speed (approx) (RPM)

39

39

35

35

32.4

29

28.4

25.4

22.5

22.5

Head Pulley (diameter)

500

500

630

630

710

800

900

1000

1250

1250
Above is only standard size range and we have rich experience on large capacity elevator as per customized request.
Design Criteria for Quantum Bucket Elevators
• All Quantum equipment is designed to meet international Standards
• Selection of correct conveying velocity and material trajectory for centrifugal elevators is critical to the successful operation of a bucket elevator
• Standard wear plates on boot in-feed and head chute discharge.
• Designed to operate no more than 70% water level of selected bucket at normal operation.
• Installed power capable of full load start up under full bucket surge capacity.
• Quantum bucket elevators are designed for dust tight design, with suitable dust extraction points
• All our bucket elevators are designed to be self-supporting and are provided with lateral support bracing at approx. 10m centers
Typical Design Features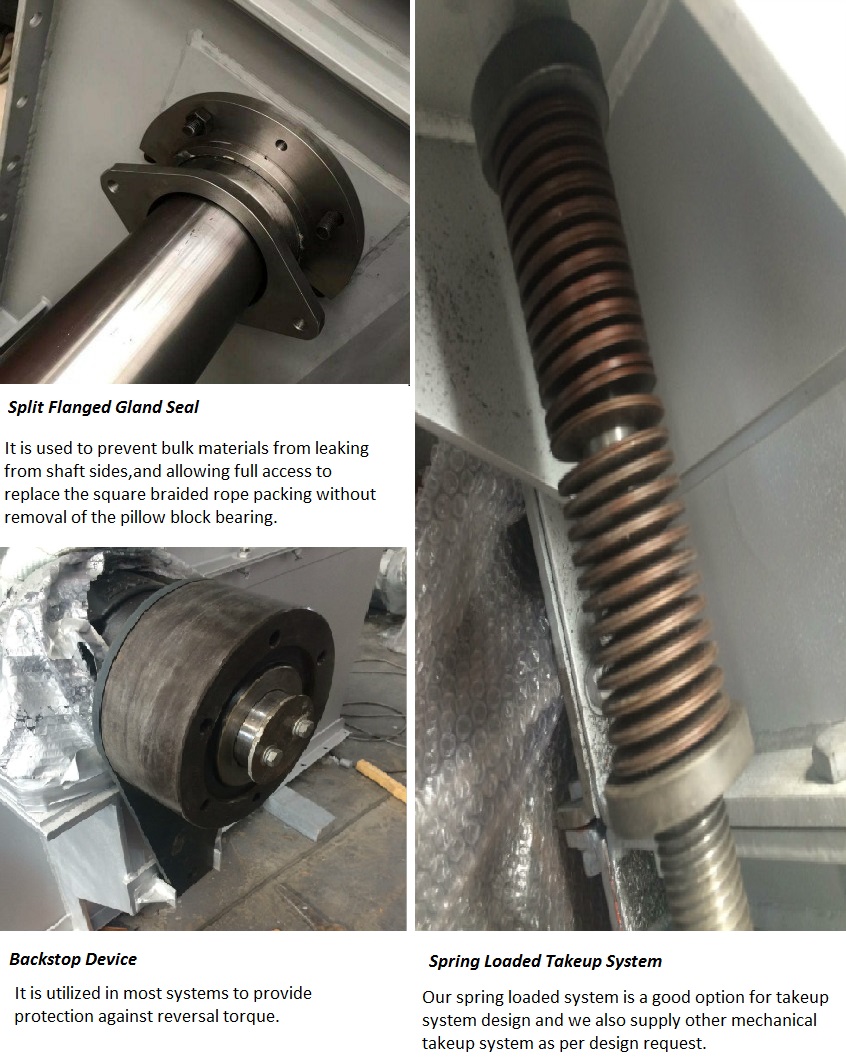 Typical Equipment Photos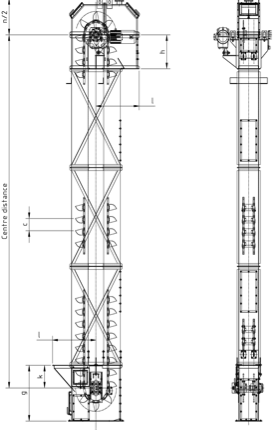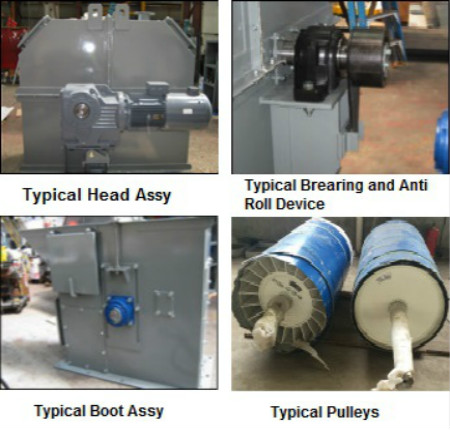 Replacement parts service
Quantum can provide a range of standard bucket elevator parts using our standard head and tail pulley assemblies, conveyor belting, elevator butt straps, conveyor bolts and fittings, belt-splicing fittings. Coupled with our range of standard steel and plastic buckets, elevator chain and fittings, belt tracking switches and sensors we will keep your business moving.
After sales support
We can provide a customised service contract using experience technicians with many years` experience in servicing and troubleshooting bucket elevators in most states. This service ensures that your equipment is functional to its optimum capabilities and reduces down time parts replacement and potential damage.
Our technicians have standard customer maintenance, checking and reporting procedure.