Product Description
Wet Recycled Paper and Plastic Drag Chain Conveyor
Project: Co-Generation Plant
Material Handled: Wet Recycled Paper and Plastic
Provide a system to sort and convey waste paper and plastic to be used as boiler fuel.
The system required the sorting of paper from plastic, ferrous and non-ferrous metals, storage and transfer to the boiler.
Equipment included:
2 x Drag Chain Conveyors

3 x Screw Conveyors

1 x Bucket Elevator

1 x 8.0m long x 3.0m dia trammel

Metal Detectors

Eddy Current Detectors

Storage Silos
General Product Description
Chain Conveyor is also known as En Masse Chain Conveyor or Drag Chain Conveyor. Our Heavy-range of chain conveyors are developed to convey materials like cement, power coal, gypsum, potash, crushed chalk and lime type of products where material is moderately abrasive and flow able.
Forged, hardened chain links with welded crossbars are used to convey materials which run on manganese wear rail.
Conveyor casings and bolt holes are cut using CNC laser machines and folded. The conveyor is off fabricated construction with bottom, side and covers plates are fitted with butt straps for easy removal.
Chain conveyors can be situated in a horizontal, inclined, or in vertical arrangement. Conveyor`s bottom and side panels are made off 5mm folded sheets with 3mm top cover. Drive and tail units are fitted with flanged bearing housings with seals in standard design and Plummer bearing housing is available as an option.
They have special designed easy removable type split sprockets for tail and head end assembly.
Tail end comes with adjustable screw take up with spring washers. Dust tight and high temperature conveyors are available on request.
Specification:
Quauntum Standard Range
Model

Conveyor Width

Casing Height

Capacity (max)

Layer (max)

Chain Speed

Chain Config

(CW)

(CH)

TPH

(m/sec)

QCH200

200

270

50

150

0.2~0.5

Single strand

QCH300

300

330

100

200

0.2~0.5

Single strand

QCH400

400

410

200

250

0.2~0.5

Single strand

QCH500

500

500

300

300

0.2~0.5

Single strand

QCH650

650

600

400

350

0.2~0.5

Twin strand

QCH800

800

700

500

400

0.2~0.5

Twin strand

QCH1000

1000

800

600

500

0.2~0.5

Twin strand

Above figures based on Alumina used as indicative only, Specific gravity 3500kg/m3
Typical Design Features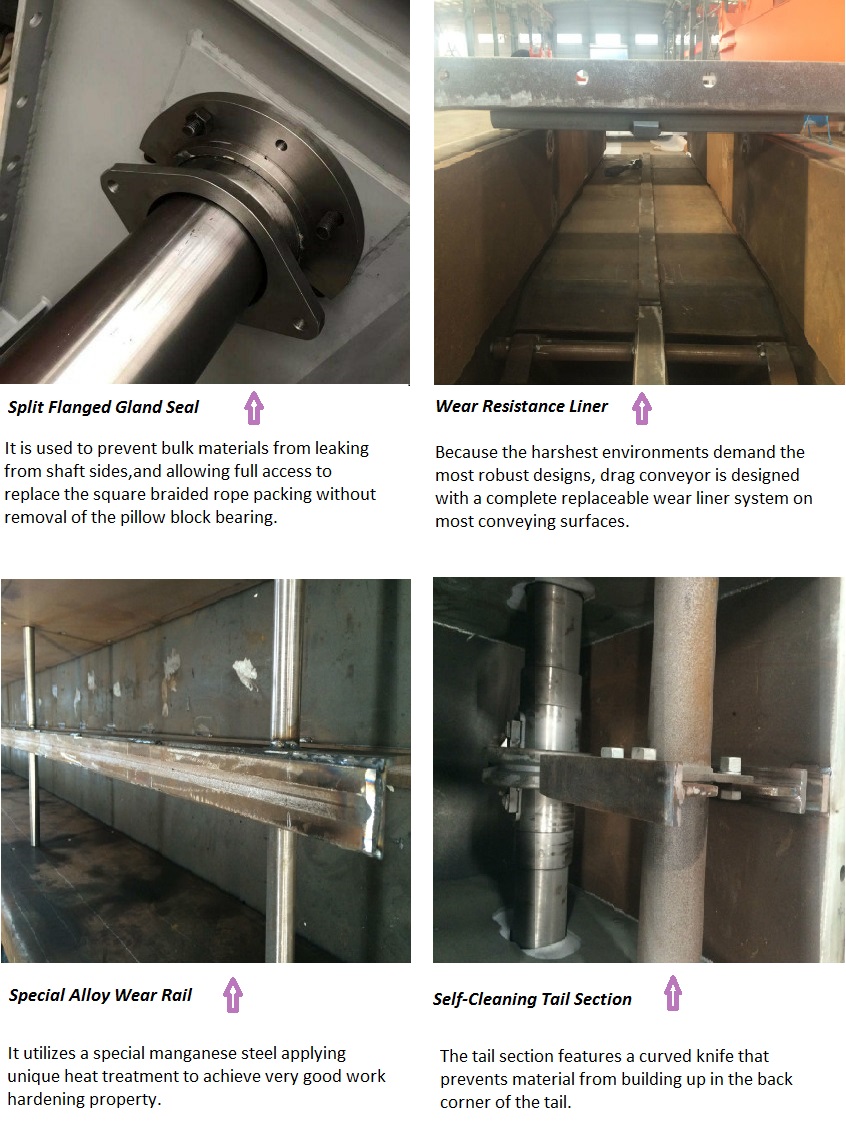 Site Photos: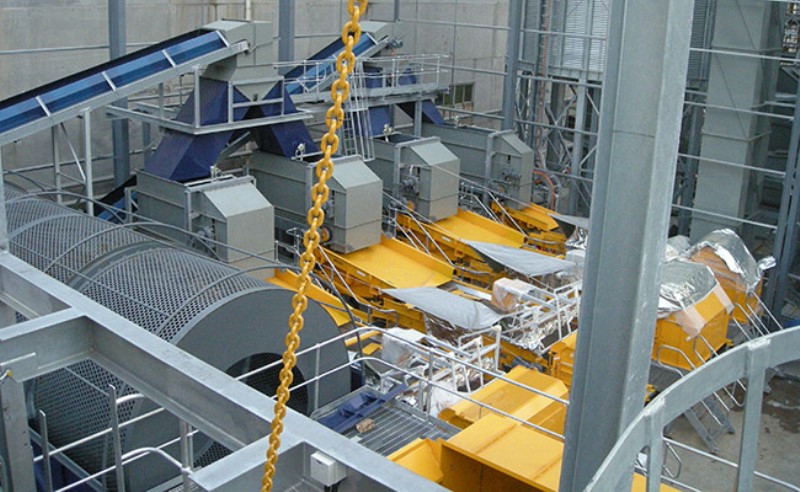 Features/Benefits
1, Design is originated from our Australia office with more than 70 years' experience
2. Our Engineers available for after-sale service abroad.
3. Provide installation guide, equipment manuals, operation and repair training.
4. Provide random spare parts.
FAQ
Please tell us the following basic technical information before ordering:
Q1: What 's the material will be conveyed? Please tell us more material features.
Q2: What's the conveying distance between the inlet and outlet?
Q3: What's the conveying capacity do you want?