Product Description
Conveyor Idler Description
Quantum supply premium quality: trough idlers, plain and rubber disc return, impact and side guide rollers for your conveyor system. Our rollers are constructed and designed to minimize maintenance and support the impact of uneven loads with high speed conveying. These innovative designs also have sealed lubricated bearing housings to help prevent leakage and to provide maximum protection.
We have the Following Rollers Available:
Carry and Return Rollers
Impact and Rubber Disc Return Rollers
Garland and Self Aligning Rollers
HDPE Conveyor Idlers
All our standard rollers are designed with the following design principles:
1. Rotation balance
2. Increased bearing life
3. Minimal shell wear
4. Reduction in inertia power consumption
5. Noise reduction for quieter running
Typical Idler Sealing Structure

Basic Information:
Standard :JIS / CEMA / DIN / ISO / GB
Bearing Type: 6204~6312 2RS
Bearing Brands:SKF, FAG, NSK, LYC, HRB, or ZWZ
Idler Dia: Ø60~Ø300mm
Idler Length:suitable for belt width 350~3000mm
Shaft Dia: Ø20~Ø60mm
Type of Idlers and Specification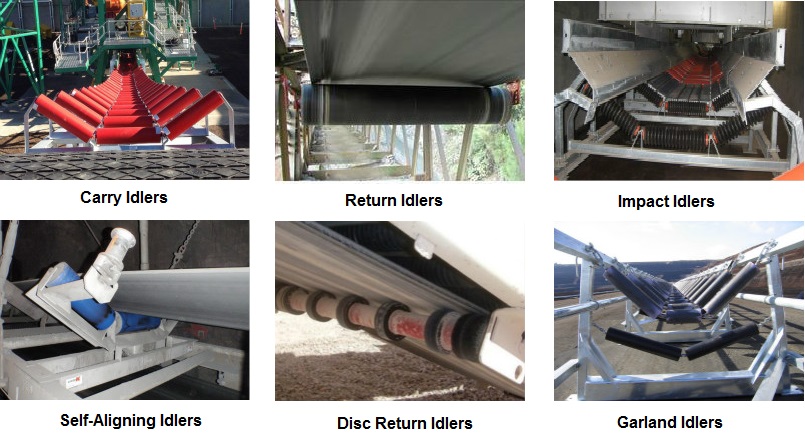 1, Carry and Return Rollers
Quantum supply Steel Carry and Return Conveyor Rollers which are made with high quality steel tube, welded end plates, quality bearings and integrated labyrinth seals to provide optimum performance, reliability, durability and long service life span.
Our steel, high quality, tube rollers are manufactured conforming to ISO9001:2008 (International quality standards) and the shells are able to be rubber lagged or supplied galvanized for special applications.
Benefits and Advantages of Steel Carry and Return Conveyor Rollers
Produce lower noise
Designed for harsh weather and extreme applications
Suitable for underground applications
High assembly accuracy to eliminate bearing stress
Best practice bearing protection and sealing arrangement
High quality competitively priced parts and materials, increases performance and lowers maintenance costs with less breakdowns and therefore reduces total cost of ownership
Housing ends can be precision balanced to required specifications
Steel rollers can be hot vulcanized rubber lagged or cold wear coated
2, Impact Rollers- For Absorbing Extreme Impact in the Loading Zone
Our Impact Trough Rollers are designed to work best in the product loading zone of a conveyor, providing additional protection by absorbing compression shock to the conveyor belt and the roller frame. Quality Impact rollers will protect the belt where the lump size, weight or shape, exacerbate damage to the belt cover from the free fall of material.
The Impact Roller construction consists of a series of resilient rubber discs assembled onto the steel tube. The rubber discs are designed to absorb the actual impact and have been manufactured with excellent anti-wear characteristics.
Benefits of Impact Rollers:
Ideal for areas of high impact loads
Ideal for heavy conveyor loading and transfer points
Protects the belt where the impact load can cause damage to the belt cover and carcasses
Quantum Conveyors rubber disc impact rollers are a highly effective way to subdue abrupt and large impact loads and subsequently increase the life span of the roller and support frame used in the impact zone, such as loading and transfer points. We highly recommended using of Impact Rollers to absorb the contact collision of material free fall.
3, Rubber Disc Return Rollers: Lower Drive Energy and Prevent Carry Back Issues
Rubber Disc Return Rollers are designed to be used on belt return system for situations that have dirty belt environmental conditions and carry back issues. Rubber discs can break up the contact between the belt and the roller surface area reducing the drive energy required and encourages any unwanted return material that might be adhered to the belt to loosen and fall away.
Our highly effective Rubber Disc Return Rollers are a reliable, simple and cost-effective maintenance solution for this common conveyor belt caking problem. These rollers are ideal for areas where return rollers are subject to high carry back volumes and where return rollers in particular are subjected to high shell wearing. Our rubber discs return rollers are lubricated and then sealed for maximum life which simply eliminates the need for on-going lubrication. Set out should ideally have a distance between them of 2 and 6 meters.
4, Spiral Self-cleaning Rollers
Spiral Roller is a kind of return roller, to remove the adhesive material under the belt surface, ensuring a straight running track for the conveyor belt, and to prevent wearing and tearing caused by belt deviation.
Spiral Roller is consists of normal steel roller, wear-resistant steel bars. At the middle of the steel roller surface, wear-resistant steel bars are divided into left and right direction. Spin welded after winding start, may remove the adhesive material on the belt surface, extending the service life of the roller, and preventing any belt deviation.