Product Description
Customized Design and Build Belt Conveyors for
Project:Co-Generation plant
Material Handled:Coal
Throughput: 500 tph
Conveyor Length: 90m
Equipment Supplied:
The total supply included
2 x 90 Metre Long Belt Conveyors
8 x Conveyor Tripper Chutes To Divert Coal And Biomass Into Bunkers
Conveyor Support Structures,
Enclosed Gantry
Platforms, Walkways Compete With Handrail
2 X Electrical Marshalling Cabinets
Electrical Controls and Field Switch Gear
Dust Collection System Servicing The 8 Bunkers.
This was also backed up with a comprehensive Quality Control System, and was designed for use in [ZONE 21" classified hazardous area.
General Product Description
Belt conveyors are the most economical method of transporting bulk materials over both short and long distances. Belt conveyors are ideal for conveying bulk materials of large lump size since the bulk materials stay stationary on the belt. The layout of your plant can be simplified and made more efficient with the use of belt conveyors.
QUANTUM designs and manufactures Belt Conveyors to meet the needs of many industries, such as Chemical, Minerals Processing, Food, Wood Products and Wastewater Treatment.
QUANTUM Modular Belt Conveyors are designed in fixed section lengths and belt widths to reduce delivery lead times and installation times.
Standard modules are in 3m sections, with a shorter, custom module to ensure the conveyor suits your plant layout. Head and tail sections are designed to cover a wide range of throughputs for each belt size. They can be used in horizontal and inclined applications – support legs can be positioned as required. All conveyors can include covers.
A typical application is for narrow belt width, fully enclosed modular sample and dust return conveyors. All of our conveyors can be designed for Modularisation and our Standard belt widths include 600mm, 450mm and 750mm.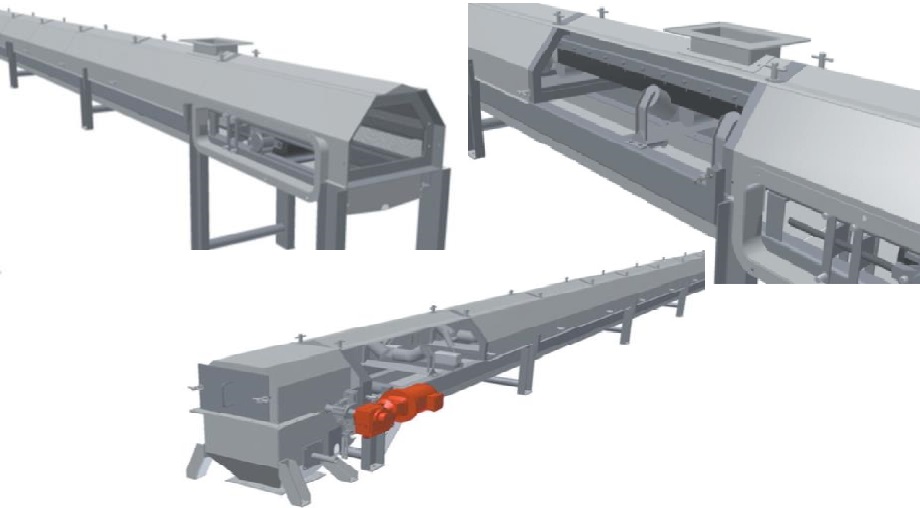 Product Specification
Our Quantum Standard Size Range
MODEL

BELT WIDTH

CONVEYOR LENGTH (m)

MAX CAPACITY

kW

BELT SPEED

(mm)

(m/second)

QBC350-07

350

7

30

1.0 - 1.5

0.5

QBC350-13

13

QBC350-19

19

QBC350-25

25

QBC350-37

37

QBC350-50

50

QBC450-07

450

7

50

1.5 - 3.0

0.5

QBC450-13

13

QBC450-19

19

QBC450-25

25

QBC450-37

37

QBC450-50

50

QBC600-07

600

7

100

2.2 - 4.0

0.5

QBC600-13

13

QBC600-19

19

QBC600-25

25

QBC600-37

37

QBC600-50

50
Design Highlights
Our Belt Conveyors are custom designed for your application based on proven industry standards. Bulk material characteristics, feed-rate, loading requirements and temperature are some of the parameters that we consider when designing belt conveyors.
Our Advantages:
Standard Module Structure - To ensure the conveyor suits your plant layout
Abrasion Resistant Belting - To Reduce Wear and Increase Life
Dust-Tight Construction - To Eliminate Dust Emissions
Heavy-Duty Idlers with Anti-Friction Bearings - To Increase Idler Life and Reduce Horsepower Requirements
High Torque Drive Units - To Power Through Upset Conditions
Typical Equipment Photos