Product Description
Product General Description:
The Quantum team of professional, knowledgeable and skilled staff represent over 70 years of combined experience in Pneumatic Conveying. We provide complete, efficient and reliable systems to assist with your bulk materials handling needs.
Our Airslides are an extremely efficient method of conveying large volumes of fluidized powders. The airslides are a very simple device consisting of a rectangular chamber separated by a permeable cloth membrane. Air is injected into the lower chamber, and fluidizes the powder on the membrane. The powder then flows like a liquid.
Mode of operation
Airslides offers simple solution in material handling by using an upper and lower plenum chamber separated by a permeable fluidised membrane. Gas is injected into the lower chamber and permeates through the membrane aerating the material above the upper plenum chamber allowing it to behaviour like a fluid. The airslide conveyor needs only to be inclined at an angle of 4 to 10 degree for material to flow. The air volume required will be specific for the material to be conveyed and the incline and pressure required overcoming resistance of the permeable membrane and head of material.
Design system
The design of these systems offers some challenges for engineers, scientist and technicians, however not very specific data exist which can relate to theoretical analysis. The practical objective is to establish minimum fluidising velocity and develop design parameters which apply specifically for the material tested. An invaluable reference to establishing design parameters is to carry out research on the material by suppliers and the use of Geldarts diagram
Airslide conveyors can be used in a single straight run or can be equally be capable of directional change by using turning pots and integrated with multiple feed and discharge points which may include diverters discharge gates.
Specification:
Quantum Standard Range
| | | | | | | | | | |
| --- | --- | --- | --- | --- | --- | --- | --- | --- | --- |
| MODEL | A | B | C | D | E | F | G | H | L |
| AS 150 | 150 | 100 | 250 | 330 | 250 | 2 | 100 | 200 | 100 |
| AS200 | 200 | 150 | 300 | 360 | 280 | 2 | 125 | 250 | 150 |
| AS250 | 250 | 150 | 350 | 360 | 300 | 3 | 100 | 300 | 150 |
| AS300 | 300 | 200 | 400 | 410 | 350 | 4 | 90 | 360 | 200 |
| AS350 | 350 | 200 | 450 | 410 | 380 | 4 | 100 | 400 | 200 |
| AS400 | 400 | 200 | 500 | 460 | 430 | 4 | 115 | 460 | 250 |
| AS450 | 450 | 250 | 560 | 460 | 460 | 4 | 125 | 500 | 250 |
| AS500 | 500 | 300 | 600 | 510 | 475 | 4 | 140 | 560 | 300 |
| AS550 | 550 | 300 | 650 | 510 | 525 | 4 | 150 | 600 | 300 |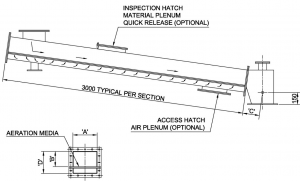 Quantum Airslides are ideally suited to many different materials including:
• Activated carbon
• Alumina
• Gypsum
• Cement
• Fly-ash
Typical Process Equipment